A Trial of Faith Over Fear in Brazil
No one understands what gun violence really looks like better than Garth O. Green, who, on a rainy night in Rio de Janeiro 20 years ago, found himself facing down the barrel of a gun after turning onto the wrong freeway ramp.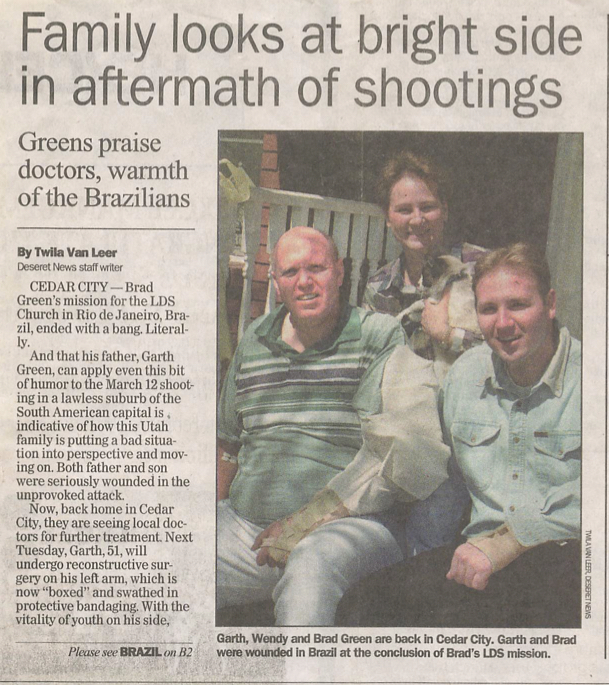 Garth was there to pick up his son Brad from missionary service for the Church of Jesus Christ of Latter–Day Saints. As they traveled back to the capital after visits to some rural areas in Brazil, two unknown gunmen forced Green's car from the road and opened fire.
Garth awoke in a hospital in Bom Sucesso, Brazil, to a doctor cutting through his abdomen and puncturing Garth's right lung to drain the blood that had pooled there after a bullet had passed through. Garth recalls how precious oxygen seemed as the pressure in his lungs slowly receded. Both arms had also been shot, his left arm completely shattered. It is a miracle that they not only survived, but that Garth managed to speed the car away from the assailants and get his family to someone who could help them.
Even after this harrowing experience with firearms, Garth understands the absolute need for Utahans to have the ability to legally purchase and use guns for sporting, hunting, and to protect their families if necessary. He knows first hand that gun violence should not be taken lightly, but giving people the chance to make their own choices is the best way forward.
To read Garth's detailed account of this event CLICK HERE
Brad's write-up of the story HERE
See news reports of the incident below: